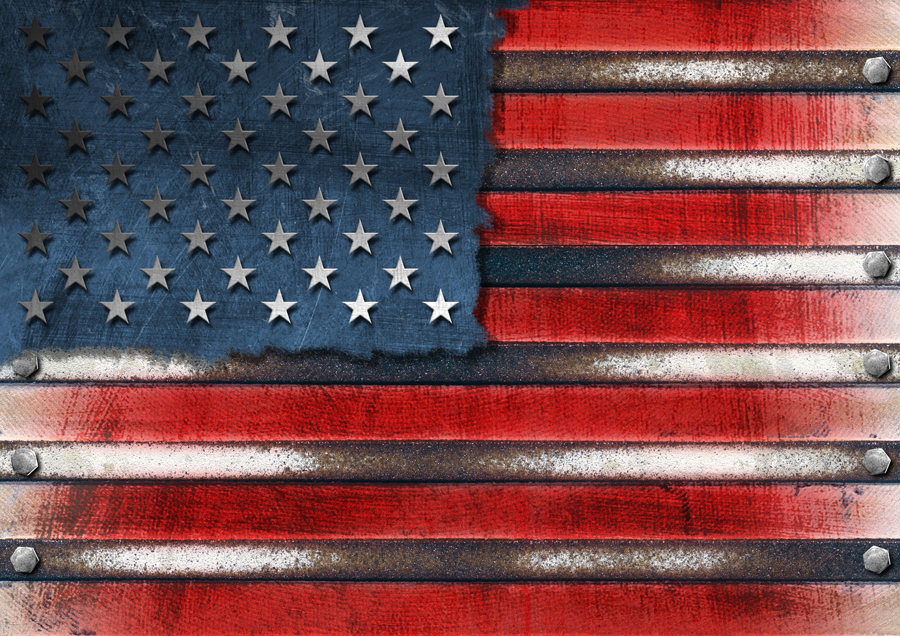 At the moment, it's a war of words with a side order of sabre-rattling. But as tensions between the US and its overseas rivals rise, the President's crusade to make what he sees as a long-overdue 'correction' to the country's trade deficit is beginning to have unintended consequences in America's – and his own – heartland.
Since he took office, President Trump has been committed to the idea of righting the wrongs he believes have been perpetrated by trading partners looking to make gains at the expense of US interests. After dabbling with tariffs on solar panels and washing machines, a new set of curbs on steel and aluminum imports was introduced in spring of this year, swiftly followed by import duties designed to target billions of dollars' worth of Chinese imports.
But, while China may have borne the brunt of the action, America's traditional allies certainly haven't escaped scot-free. Initially exempting Canada, Mexico and the EU from the steel and aluminium tariffs, Washington later confirmed that it would impose the duties across the board – special relationships notwithstanding.
US tariffs threaten US industries
The White House argues that the steel tariffs are essential for America's security, as well as to protect US jobs and industry – and that they are the only way of addressing the allegedly 'unfair' trading practices that are disadvantaging the US economy.
The problem for Trump is that tariffs on imported metals will not only impact Chinese exports but will also increase overheads for the many US industries that rely on plentiful supplies of cheap steel – automotive and aerospace manufacturers, for instance – and, ultimately, raise prices for the customers who buy them.
The effects of a multi-pronged trade dispute are already hitting businesses and consumers. The National Association of Home Builders estimates that recently introduced tariffs on Canadian lumber is likely to cost jobs, as well as raising the cost of new-build homes, while appliance giant Whirlpool has said the steel tariff burden will cost them an extra $50m in manufacturing costs. Even soup isn't immune – as evidenced by a dip in Campbell's share price after the company identified the potential for tariffs to affect next year's profitability.
Strategic targeting of Trump-voting states
Retaliatory tariffs from Beijing and Brussels could also significantly raise the stakes, as both rivals look to score politically sensitive targets in the US.
China's latest tariff list includes soybeans, grown in the Trump-voting states of Iowa and Nebraska, while duties on oranges will impact the swing state of Florida. Meanwhile, the EU has put iconic US brands at the top of its £3.3bn hit list, announcing 25 percent duties on Harley-Davidson motorcycles, Levi's jeans and bourbon.
Harley-Davidsons are manufactured in Wisconsin, home state of outgoing House speaker Paul Ryan, and in which Trump won the narrowest of victories in 2016. The Milwaukee-based company quickly responded by announcing that it would move some of its manufacturing overseas, dealing a blow to Trump's high-stakes policy which is focused on protecting, not relocating, US jobs. Trump has threatened Harley-Davidson with punitive taxes, but it may be too late to stop the rot.
What's the cost?
Experts estimate that tariffs could cost the US economy at as much as $100bn – and may well cost Republican seats in valuable swing states come the fall elections. It's also possible that the strategic response from Beijing and Brussels could pay off as industry leaders lobby the administration in the hope of preserving their profits and regaining the status quo.
On the political stage, the tit-for-tat tariffs that may yet presage a full-blown trade war are also causing a rift between Republicans in Congress and the White House, as the fear of rising prices – and disaffected voters – raise the stakes in the battle for votes.
When Donald Trump declared that trade wars were 'easy' to win, he couldn't have envisaged the political and economic price of entering into battle.